I am back from Bali and what an incredible and wonderful time I've enjoyed.     
I learnt even more about Balinese culture and healing, and especially to never antagonise the local healer when he says there's nothing wrong with you and you insist that your knee has problems.  Oh boy, did he get revenge because I am still sporting the bruise on my thigh!     
"It certainly was a fantastic retreat,which is a reflection of Narelle and Jennifer who ran it,Thank You, only two words, but big meanings. As for our group seemed to be hand picked,everyone so compatible,loving,caring people. When my mind goes back to Kumara, I am sure my face says it all,with a littlle smile, contentment.and sheer bliss. Take care my beautiful friends with much love." CAS, Australia - The Wealthy Spirit Retreat, February 2011, Ubud, Bali  
We began in Kuta (Jennifer Peterson, Master Trainer Neuro-Semantics, co-facilitated the retreat with me) for a couple of days to acclimatize.    
Beach walks, the hustle and bustle of jostling market traders and touching, well, not just touching, but wearing a boa for the very first time, were all highlights.   
Actually, the carpet snake was amazing.  It kept wanting to go back to it's little Balinese female handler, and felt incredible to the touch.  Silky smooth skin, medium temperature but not cold, and you could feel those muscles undulating.  I was wrapt!  
And of course, the shopping was great too!  I love being a Grandma because those little girl outfits are adorable, and my little grandsons also scored bigtime!   
We then moved from 100 Sunset Boutique Hotel at Kuta, but a bit off the beaten track, with it's charming decor and swimming pool, free reflexology treatment, and the best free breakfast, to beautiful Ubud.    
"Just a quick note to send you all my love, hope you are all going well. I adored the retreat and am working hard at applying what I learnt. I use the "my feet are relaxing" every night at bed time and I never make it very far!  Thanks again Jen and Narelle. Xxx" KB, Brisbane - The Wealthy Spirit Retreat, February 2011, Ubud, Bali   
Our driver Boyan was very knowledgeable, and kept us entertained on the trip.  When we rolled into the driveway of OneWorldRetreats Kumara Sakhti, we were impressed by the levels and layers of the place.  Steps, stairs, and lush tropical green foliage everywhere.  
So much so, it was hard to see other buildings around the place.  When we did enter a room, it was dressed in typical Balinese dark wood furniture, flower bowls filled, and plenty of light and windows or none at all, just open to the outside air!    
The accommodation was much more than "comfortable accommodation", it was just gorgeous!  Most rooms had spacious outdoor balconies, some had an outdoor type bath and shower, and of course, fridge and aircon and fans.      
"Everything was really wonderful and excellent overall. The spa was superb and all of 
the staff were so friendly at the resort. Narelle and Jennifer balanced each other out 
nicely. The classes were extremely well presented and interactive for us. I learned a 
lot and received many tools to apply to my daily life. I highly recommend this retreat 
there is something for everyone!" SH, Canada - The Wealthy Spirit Retreat, February 2011, Ubud, Bali 
Balinese are obviously very fit and healthy, because stair heights are higher than normal and sometimes twice as high!  Neither are they always the same height so sometimes there is a bit of a surprise with one being higher or lower than the step you just trod on. 
The spa treatments were heavenly and very different to what we experience here at home.  One of the participants was overheard saying that she has a regular monthly massage and that this was like no other she had ever experienced and it was divine (that was the Spa Mandi Lulur which was included in The Wealthy Spirit Retreat package.)   
I have to say that floating in that great big tub was wonderful – so exotic, and I wish I had the space and the water to put one in at home.  We filled the week with so much, and yet we also had lots of time to relax and enjoy our surroundings, with quick trips down to Ubud markets for treasures to bring home.      
The beginning of the week saw us attending a gorgeous Balinese Offering Class.      
We also got fitter and healthier with the fantastic food, loads of raw salads and veggies, vegetarian for those who wanted it, and a great opportunity to taste new dishes for those who wanted to sample.  Juices, herbal ginger tea and even desserts were also offered at lunch and dinner.      Some of us even lost weight, probably due to the body cleaning out the old, the stairs, the yoga and walks around Ubud or across the rice paddy and did I mention the stairs?       
"Well it is the final hours before I am the 2nd last to leave the retreat.  I have had an amazing time and I know I speak for all on that note." ET, Australia - The Wealthy Spirit Retreat, February 2011, Ubud, Bali  
A few of the group went to visit Ketut, the palm-reader mentioned in Elizabeth Gilbert's book Eat, Pray, Love.  Honestly, the readings were cvery generalised, what you could expect, and yet everyone who went was still delighted because they saw real Balinese home-life, and met Ketut himself, and that's a wonderful story to tell back home.    
Most of the group went to see the local Balinese healer too, and this was an interesting experience.     
He firstly felt all around your head and ears for tender pressure points, and then your shoulders, and then you lay down and he checked your feet for tender spots with a little hollow stick about 25cms long.      
Let me tell you that it's not fun to wait and watch a big grown-up man in incredible pain while he finds those hurty bits on your toes…  Then, having found the spots, he does some meridian tracing, some pressure points, and may even pray over you with some mudras, and then back to those sensitive toes to prod you again to check if it worked.      If you were lucky, it worked the first time, because by golly, those toe points are severely hurty spots!  Some people reported that they had healing occur which was wonderful.  Me, I left with a sore leg where he inflicted his sharp pointy stick into my thigh!  Next time I will listen to my subconscious and not go there, or, zip my lips.      
Most of the week the weather was fine, and most of the rain occurred during the night, except for the day we went on the rice paddy walk through little villages and past local artists to get to the organic restaurant for a delicious lunch.      
"Everything was excellent and amazing and I would have to come back." SD, Sydney - The Wealthy Spirit Retreat, February 2011, Ubud, Bali  
On the way back we covered up and ran like kids through the rain and still got soaked.  We foolishly went home to get changed, went back to Ubud and promptly got saturated again!  What a laugh!     
Thursday morning saw us up at 4.30am for a 5am drive to the Volcano Batur, in time to do morning yoga at sunrise, and then see Lake Batur in the distance.    
It was eerily beautiful on top of the mountain with the mist swirling around, and after our yoga session we wandered downstairs and out into the gardens, sipping on fresh watermelon juice until breakfast was served.    It was fascinating to see the roadside stalls with artistically arranged fruit and veggies in bright colourful bins, just waiting for someone to drop by.     
A famous scene from Bali is of the rice terraces and on the way back, we stopped and took photographs as well of these bright, lush green terraces.      
(Apologies if you are tired of my superlatives, Bali needs them all!)       
On Friday night, we visited Tirtur Empul and Springs for the Balinese Purification ritual, which included a special sarong, flower offerings, songs of prayer and worship, and then saying 3 different prayers under the flowing spouts of cool spring water, for around 9 spouts in one pool, two in another pool and then two more in yet another pool.    
We then changed and went into the temple area for more prayers and offerings, and then concluded the evening with delicious and warming ginger tea and fruit balls before driving home.   Our group was small in number and large in personality!  Every person was there for there own reasons and these ranged from needing a break to anything at all.     Material that was covered included Principles of Consciousness, Spirituality, Love, Creativity, Abundance and created a Vision-Poster, interactive exercises, meditation, and even a little closing song which is a Sufi blessing.      Participants who had already been introduced to Principles of Consciousness found that it helped them to understand it even further, so that they left feeling even more connected to their Sub-Conscious, and more dedicated to taking care of this child inside.   We shared lives, hearts and experiences to enrich us all.        Feedback from our beautiful participants included being inspired, educated, enjoying the interaction of exercises and education, making lifelong changes, not wasting time and looking forward to returning to Bali.       On the way back from Ubud, I bought some beautiful silver jewellery which is now available for sale at the office and when I get time, I may post some pics to the website.     After the retreat was over, Jennifer and I spent a couple of days in Sanur, taking it easy, if you call getting your black belt in shopping taking it easy! And just vegging out reading a book.  We also exchanged notes about the programme and consulted on future programmes in Bali.    Bali_2011_Narelle_FishTherapy_Sanur Click here for a hilarious movie!   
I also enjoyed fish therapy and you don't eat the fish, they eat you!  You pop your feet and legs into a fish talk, and little fishies chew off all the dead skin cells! sounds creepy doesn't it, and it was actually pretty cool!    
We did do our yoga and meditation every morning though, so we felt quite smug about that. 
Will I hold a retreat again?  Absolutely, and in fact, I have been able to book almost the same week next year, for anyone who was thinking about it and the timing was not right for now. (Sandrine the Events Manager at Ubud checked the participant's feedback and gave us the green light!)      
So, it is good to be home, and my cat especially appreciates me being here, given that he was almost drooling with pleasure when he got to have a smoodge.        
In the meantime, take care of you, and keep loving yourself well, you are worth it!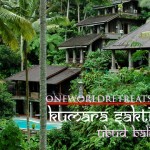 "Kumara Sakti is how I would describe the Golden of Eden. In tune with one's self, a 
beautiful balance, I will return. Namaste Om Shanti Om." and this, from the same participant, "I thought it was varied and filled my expectation, and more!" CAS, Australia - The Wealthy Spirit Retreat, February 2011, Ubud, Bali 
 And, you can join me on this wonderful Wealthy Spirit  Retreat in February 2012, as I have rebooked for next year!  Keep an eye here for more details.  The Nepal Wealthy Spirit Retreat is happening September 18 to 24, 2011!