I've decided not to produce a newsletter as I know how I feel when I am bombarded with newsletters and blog posts. Instead, you will receive my sporadic blog posts on fears and phobias, and other interesting topics.  That way, if I don't produce an actual newsletter for the month you will probably feel relieved and I won't feel guilty or bothered by my tardiness.
I figure we'll both be happy if there is one less email to read!
I'm not really putting myself down, it is simply that I know it takes you time and energy to read my (very interesting, helpful and informative) emails, just as it takes me time and energy to write these for you, my dear readers.
Feel free to let me know your thoughts, as I love to hear from you.
Cheers
Narelle


April 2012                                                   Happy Easter
Pondering Imponderables
Master's Wisdom
Interesting News Bites

How much does obesity cost in health costs? The figures may astound you, like they did me
Yoga, from the animals first. This will delight you and maybe make you laugh
Acceptance 

(Clicking this link will take you off site, and any purchases made will result in a commission paid to Narelle Stratford. As with any purchase, do your due diligence first.)
Click on Leave a Comment above, or fill in Speak Your Mind at the end of the post. I'd love to hear from you.
Dear Reader
This morning I was looking out at a glorious setting: blue skies with a few white fluffy clouds, sparkling blue water, seagulls, birds calling from the tree about 15 metres from my balcony and had a thought: how long can one sit and admire the view, and think "this is pretty" without doing anything?
As humans we are so used to doing, or, so used to not doing… some spend their time avoiding life in the not doing, and some spend their time avoiding by over-doing…
Need help to act on your ideas? (Clicking this link will take you off site, and any purchases made will result in a commission paid to Narelle Stratford. As with any purchase, do your due diligence first.)
May you have a refreshing balanced break if you are taking time off this Easter, and for those who believe, Happy Easter to you and yours.
Drive safely and consciously, with gratitude for your safe hands, alert mind, and vigilant eyes and ears.
Happy Easter
Warm regards
Narelle

Pondering Imponderables
Thinking about thoughts and feelings…
I am very fond of saying to people, "We are born with nothing.  We come into the world with nothing and have nothing except our own self, a unique human being. We end our life with nothing.  Who we are is not defined by what we have gained, be it pieces of paper such as cash, title deeds or businesses, or lost, such as home or property or money or relationships or jobs.  It is defined by how we think, feel, respond and behave between the beginning and the end points."  And I am wondering if that could be the definition of integrity?
Negatives and Positives
Every choice I make has an impact, and just like the story of a butterfly's wings causing a hurricane in some other part of the world, so my choices impact on my world too.  While walking this week, almost every day I have picked up rubbish: plastic bags, bottle tops, plastic cups, bottles, food wrappers, serviettes, a plastic spoon, a whole litany of rubbish that spoils my view, and I wondered if it spoiled my walk too? I made the realisation though that I could also enjoy the walk, while enjoying the fact that I was helping to improve someone else's view…
My motivation to pick up the rubbish was not so that I avoided my walk being spoiled. My intention was to help the environment because plastic is such dreadful stuff when it is eaten up by natural creatures such as fish, crabs, turtles and so on.
I don't understand the lazy mindset of not collecting your rubbish.  I just don't get it.  How do people come to an area that is beautiful and leave it soiled and dirty? Or broken and bent out of shape? I wondered what would happen to all the native eucalypts if every one of us took a small switch of leaves to chase the flies away, and yes I was guilty of that one too. I was brought up to leave an area better than I found it, so that helps.
Judgemental Attitude
Am I being judgemental about laziness? Not sure, hmm, in all honesty, I think so. I just know that I got irritated each time I went for a walk and there was rubbish along the way, so I started picking up bits and pieces and hoped others might see me and follow suit.  Maybe someone else will do it too and soon we are sending a message that our environment is beautiful.  
I know it makes me focus on the negative behaviours when I see this rubbish, instead of the positives. When your head is down and you are picking up rubbish, you are not seeing the glorious vista of nature spread out in front of you.
Strengths
When your head is down and eyes are downcast, that's when you are listening to your emotions and feelings and we may forget that we are resilient, strong, and resourceful and can make a positive choice.  By following positive choices, I may begin to tap into those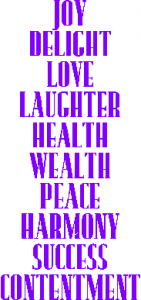 positive feelings inside, instead.
Do you want to be more productive?
(Clicking this link will take you off site,
and any purchases made will result in a commission paid to Narelle Stratford.
As with any purchase, do your due diligence first.)
Irritable
So, the next time you are irritated by something, see what you can do about it. After all, a beautiful pearl is the result of sand irritating the inside of that oyster shell. The more you focus on how your irritants in your life can cause you to be stronger or more focussed and determined, the more you will be able to find some way to like yourself for that, and maybe one day, love yourself too.
And that may bring you to the realisation that all there is, is you. 

Master's Wisdom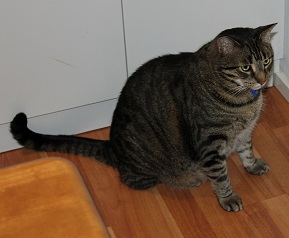 "I'm watching you.
I'm watching everything you do and everything you don't do…
I'm not judging you, you are judging yourself"

Interesting News Bites
Click Here for Narelle's Stay Slim Now Audio Download
(Click the link above)  Facts:
21% of health care costs are attributed to obesity
$153 Billion annual costs to business for productivity lost by
overweight and obese workers.

Weight loss motivation

 

(Clicking this link will take you off site, and any purchases made will result in a commission paid to Narelle Stratford. As with any purchase, do your due diligence first.)
(Click the link above)  Check out this lovely slideshow and be inspired to practise yoga every day.
If nothing else, when you watch it you will laugh and that increases endorphins, the happy hormones. If you have a really good belly laugh maybe you will also burn some calories.
Yoga Nidra anyone? (Clicking this link will take you off site, and any purchases made will result in a commission paid to Narelle Stratford. As with any purchase, do your due diligence first.)
And that's it for this month! Remember to click on Leave a Comment above, or fill in Speak Your Mind at the end of the post, down below. Love to hear from you and Live Life 2 The Max!

March 2012
Coping With Change
Master's Wisdom
Interesting News Bites

Obesity in 6 month old babies from environmental toxins
Homeopathy endorsed by Swiss Government after incredibly thorough investigation and trials.
Fear of Change 

(Clicking this link will take you off site, and any purchases made will result in a commission paid to Narelle Stratford. As with any purchase, do your due diligence first.)
Click on Leave a Comment above, or fill in Speak Your Mind at the end of the post. I'd love to hear from you.
Dear Reader
THANKS EVERYONE
Thanks to all of you who were so understanding of my move, and so supportive of this change in my life, and for my clients, this change in your life as well. I am so grateful for the honour that you do me in letting me work with you and I wish each and every one of you only the best that life has to offer. Keep going, keep working on yourself, keep taking care of you and loving and approving of yourself. You are worth it.
Given that I am working in Adelaide for the next few months, I thought it only appropriate that I focus this edition on Coping With Change.
I love Adelaide, it is a gorgeous city, and the surrounding countryside is magnificent. So far, it's been a bit like Melbourne on occasion, with 4 seasons in one day, so you learn to be prepared.
It's such a pretty city with churches and historic buildings, trams and culture, so there is lots to do.
Fuel is over the $1.50 mark, and the cost of living is still high.
I am getting out and about to have a look around while I am here, so it is not all work.
Take care of you, and Live Life 2 The Max!
Regards
Narelle

Coping With Change
What a whirlwind and a shock! From the day I decided to definitely close the office, to the day I flew out of Brisbane to a new role, was barely 10 days! Can you imagine that?
This is exhausting just reading about everything that had to be done, so you can imagine what it was like compiling this list.  I had to contact ongoing clients and sadly explain myself, pack everything from the office, sell items no longer required through posting ads and photos on Gumtree, organise the removalists to do a pick up and two drop-offs, cancel the phone and internet and bank, arrange pickup of things, organise the cleaning of the office, and carpet cleaning and blind cleaning, go and visit my beautiful daughter and her husband and my gorgeous grandsons, arrange the mail, and make sure the new house-mate at home was up to date with everything, pack, and say goodbye to my beautiful cat. Feeling tired yet? 
Oh, and there was a bit of a get-together on the Saturday night to organise, however I made that as easy as could be.
Coping Strategies
So, how did I cope? What did I do to get through these sudden changes?
Firstly, self-care.  I noticed that if I went too long without eating regularly, I began to stress, so this was very important. Of course, include water intake there as well. Did I feel stressed, you bet!
Tears of Intention
In fact, I cried a lot on Friday afternoon the 10th February and I simply acknowledged that this was an emotional, painful and necessary decision to make, that crying with the intention to release my emotions was okay, and that these feelings would pass and I was okay even though I was taking this step.
Because it was a BIGGGGGGG step in another direction. Like climbing stairs, one step at a time, so I visualised it all working out and coming together.
Fear of Change
(Clicking this link will take you off site, and any purchases made
will result in a commission paid to Narelle Stratford.
As with any purchase, do your due diligence first.)
Brain-dump
I jotted down everything I needed to do before I went to bed each night, so that I did a brain-dump. No point mulling it over in bed, because it's not getting it done and it wasn't the time to do it. That way, I could tackle the list in the morning and get great satisfaction from ticking things off. Sleep was very important and most nights I slept well, but on occasion I didn't. I knew this was just a reaction to the stress of it all and didn't stress about either the quality or quantity of sleep. I knew that I would sleep well again once everything was done.
I also didn't stress if everything wasn't done on the first day. I knew it would take time and that some things had to work around other things. For example, I wanted to visit my daughter on Thursday but that couldn't come about as the removalists would have had to pick up Wednesday afternoon and I needed my chairs on Wednesday afternoon!
Be Flexible
So, I was flexible in my thinking and adjusted my attitude to cope. And had a beautiful stay overnight on Friday instead. As it turned out, I would not have been finished packing on Wednesday for them to get everything loaded any way.
Accept Help
It was marvellous to have friends who offered to do things. My good friend Jennifer was en route to Ballina and had about a 4 hour stop-over before catching the bus, so she gave me a hand. Never feel too proud to ask for help either, as people will help you when you ask. My son was a big help as well and even did things after I left.
Be Systematic and Organised
When packing, be systematic. Go through and pack the kitchen things, the books, the accessories and so-on and mark what's in the box for later!  Make sure you use smaller boxes for books because they weigh a ton!
My priority was my clients and I spent most of Saturday on the phone, and still didn't manage to speak to everyone which was upsetting to have to leave a message about what was happening. After that, an email was sent to everyone. Gradually, by the end of the week, it all came together.
Some things were done after I left, such as cleaning, and others got done along the way.
Get organised
(Clicking this link will take you off site, and any purchases made
will result in a commission paid to Narelle Stratford.
As with any purchase, do your due diligence first.)
Thank You Friends and Family
Thanks go to my friends who came over on the Saturday night because as they walked in the door, I said 'Lovely to see you, thank you for coming, there are the glasses, the fridge, the plastic plates, and I am not doing anything!' because by that time I was pretty tired.
So, it is okay to acknowledge that your energy is getting low, and to help yourself to cope by taking a rest when you can.
It took me about 2 weeks to recover from the shock of the change because it was so swift, and then I was okay. During that two weeks I went to bed as early as possible, ate well, drank lots of water, exercised when I could and meditated with lots of deep breathing. By the third week I was back on top.
Stages of Loss and Grief
You might have noticed some responses in there such as shock, sadness, acceptance of my decision, teariness? This mirrors fairly closely what can happen when we have a sudden loss. there may be shock at what has happened; denial – this can't be happening to me, or, this can't have happened; bargaining – if I do this it will change it won't it?; sadness and grief and tears; anger; and finally acceptance.
Acceptance of the situation, acceptance of what is, and letting go of judgement eventually occur if that is your intention. This range of emotions is completely normal and can happen in 5 minutes or may take days.
Change is Good
Has it been a good move? Yes, absolutely. Who knows what will come our way in this life and being able to adapt to change is a skill set that is fundamentally assisted by having healthy living structures in place.
May you greet change in your life as something to learn and grow from, to help you to be the person you want to be and see in the world.
Last month, I wrote about "Trouble with The Head" and I am wondering whether you could relate to this story? Send me an email, let me know, I love hearing from you.

Master's Wisdom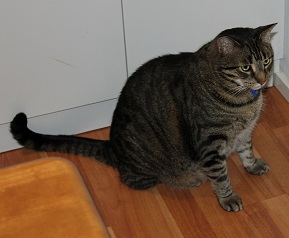 "Where's My Mum gone?
I'm going to visit the neighbours lots while she's away to take my mind off it."

Interesting News Bites
Mark Hyman, MD, writes for the Huffington Post on the obesity epidemic in 6 month old babies from environmental toxins which have been proven to lead to weight gain and imbalanced blood sugar. Watch the video for yourself by clicking the link above.
In late 2011, the Swiss government's report on homeopathic medicine represents the most comprehensive evaluation of homeopathic medicine ever written by a government and was just published in book form in English (Bornhoft and Matthiessen, 2011).
This breakthrough report affirmed that homeopathic treatment is both effective and cost-effective and that homeopathic treatment should be reimbursed by Switzerland's national health insurance program." (Huffington Post)
Lots of trials were done and the results indicated that side effects were either non-existent or minimal compared to a drug counterpart. Read or watch the video for yourself by clicking the link above. 
And that's it for this month! Remember to click on

Leave a Comment

above, or fill in Speak Your Mind at the end of the post, down below. Love to hear from you and Live Life 2 The Max!

February 2012 
Click on

Leave a Comment

above, or fill in Speak Your Mind at the end of the post
Hello from Narelle;
Trouble with the Head?
Master's Wisdom;

Interesting News Bites:

New Depression Treatment – Deep Brain Stimulation as seen on Ch 7 Today Tonight;
Genetic link to Optimism, Self-Esteem & Mastery via hormone 'Oxytocin', impacts on Depression;
Signs to Detect Strokes.
Dear Reader
It's been very quiet at work this month, and I can only assume that everyone is getting back into work and school and needing some recovery time, whether that is physical, financial, or emotional.
I am also planning a Weekend Workshop titled "Innermost Mind".  I need your help though for timing. Which of these dates suits best: March 24-25, or March 31-Apr 1, or during April once we are clear of Easter. Please let me know your thoughts, thanks.
If you haven't seen me for a while and have been having any hiccoughs, then I'd like to suggest that you complete the Depression, Anxiety, Stress Survey to see how you are going. Sometimes we just need a reminder to reinforce the work that's been done, or a reminder that tells you to pick up your strategies again or maybe even have a complete tune-up.
Regards
Narelle

Trouble With The Head!
A tune-up reminds me of a car analogy because if you don't take regular care of your car it doesn't run properly.
For a car, apparently there are three fundamental things that can cause a car to stop working (along with about a thousand others) and they are: a bad fuel mix, compression is lacking, or not enough spark.
I don't know about you, but many people run out of spark, have a poor fuel mix, and I'm not sure what compression is to do with!
Wait, I just checked and compression requires a mix of fuel and air. Ah ha! A bit like your lungs needing decent food for a nourishing blood supply and a big intake of air, and output of carbon dioxide! Now in a car if that doesn't happen it is because of a problem in the head, well, the cylinder head, which requires a head gasket and a gasket is a seal that prevents air leaks. (I'm really getting into this now.)
And we've all heard of blowing a gasket, haven't we? Except I've heard that people blow a gasket too! When they are really angry, they blow a gasket, or blow a fuse. Which means their energy leaked out all over the place, or the pressure built up too much and the seal blew!
So, let's check on your car's head and engine, oops I mean your head and body, and see what's been happening.
Do you?
Let the fuel tank frequently run on empty so you end up with rust in the fuel tank, a fuel filter full of sludge, and the energy of the car is stop-start.

Rather like running out of food and not eating regularly, it plays havoc with your energy and your emotions and your ability to think clearly.

Run your car with dirty fuel and your car may run down and stop.

Living on coffee, tea, coke, alcohol, and chocolate may cause issues with your stomach, liver, gall bladder and pancreas, not to mention your mental health. Drink plenty of water and watch your energy levels improve.
Or perhaps you don't:
Check your brakes and tyres and when you want to stop you might not be able to…

Not resting enough or sleeping well, impacts on you guessed it, your mental health so that your brain just keeps on whirring. This can tip into not being able to stop and take a break or even slow down which increases stress and the potential to be anxious and panicked.

Insomnia Cure
(Double CD)

The promoters say, "Cure insomnia for good with this double CD program". Clicking this link will take you off this website, and if you purchase this set or any other products, Narelle Stratford will receive a commission payment from the sale.

Take your car for a run out on the highway to get it cranking on all cylinders? Apparently, city driving with it's stop/start and crawling in traffic is bad for your engine.

Your body and mind need regular exercise just like your car! You need to blow the cobwebs out with a good workout on a regular basis.

Service your car regularly and you miss the warning signs that would tell you that some work should be done sooner rather than later.

Regular check-ups prevent health issues for your car and for you.
After all, (women) do you go to the hairdresser regularly? If you're a woman, then the answer is probably yes, and if you're male maybe not so much, depending on your work and status etcetera.
Could you be visiting your hairdresser more often than their doctor or psychologist? (Which is great if you are 100% healthy, and no I am not denying the value of looking good, it is valuable.)
Do you go to the dentist for a regular check-up?
Do you have an annual medical? Pap smear? Prostate check? Blood pressure check?
Do you take your pet to the vet for annual shots?

Does your car have problems with lights?

This can be a reflection of your eye-sight and what you are viewing, and whether you are liking or not liking what you see. There is a book by Annette Noontil titled "Body Is The Barometer Of The Soul" which outlines car problems and how they may relate to your own body, I kid you not!

Does your car blow smoke?

Does your exhaust pipe work? How much wind do you blow, I mean pass? Is your bowel moving effectively or are you clogged up because of lack of exercise and an unhealthy eating style?
Taking care of your environment, your home, your pets and your car might be seen as a reflection of how well you take care of yourself. The better you take care of you, the more energy you will have to take care of these other areas of your life. Remember, it's about balance, not obsession in one area, simply balancing it all out between you and what's out there, and what's inside.
In fact many people believe that there is no separation between what's out there and what's inside, and if you want to feel happier then you connect with yourself and the outside as well, with love and commitment.

Last month, I wrote about "Getting Results or Not, for Goals" and I am wondering if you are achieving the outcomes you want? Send me an email, let me know, I love hearing from you.

Master's Wisdom
"Persistence pays off!"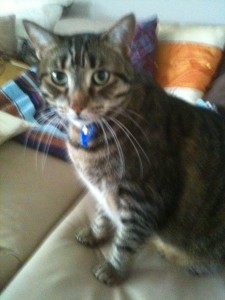 Interesting News Bites
1. New Treatment for Depression: Deep Brain Stimulation
As seen on Today Tonight, January 31, 2012, Deep Brain Stimulation (DBS) has been used to treat depression, OCD, Tourette's Syndrome and other disorders involving movement such as Parkinson's Disease. It involves stimulation via electrical impulses to specific sites in the brain.
Please check all research articles as the jury is still out for this procedure despite the convincing portrayal by Today Tonight.
There is a very good meta-analysis (a meta-analysis looks at and compares numerous specific studies) titled: "Deep brain stimulation for obsessive-compulsive disorder and treatment-resistant depression: systematic review" by Shaheen E Lakhan* and Enoch Callaway (2010) which suggests 50:50 results. It is quite easy to read as well!
2. Psychologists Discover Oxytocin Receptor Gene's Link to Optimism, Self-Esteem
"Scientists have identified for the first time a particular gene's link to optimism, self-esteem and "mastery," the belief that one has control over one's own life — three critical psychological resources for coping well with stress and depression." Read the full fascinating account here (Original article by Stuart Wolpert)
Ref: University of California – Los Angeles (2011, September 14). Psychologists discover oxytocin receptor gene's link to optimism, self-esteem.
3. Signs of Stroke
Get someone treatment within 3 hours of a stroke and you can save their life.
During a BBQ, a woman stumbled and took a little fall – she assured everyone that she was fine (they offered to call paramedics) …she said she had just tripped over a brick because of her new shoes.
They got her cleaned up and got her a new plate of food. While she appeared a bit shaken up, Jane went about enjoying herself the rest of the evening.
Jane's husband called later telling everyone that his wife had been taken to the hospital – (at 6:00 PM Jane passed away.) She had suffered a stroke at the BBQ. Had they known how to identify the signs of a stroke, perhaps Jane would be with us today. Some don't die. They end up in a helpless, hopeless condition instead.
A neurologist says that if he can get to a stroke victim within 3 hours he can totally reverse the effects of a stroke…totally. He said the trick was getting a stroke recognized, diagnosed, and then getting the patient medically cared for within 3 hours, which is tough.
Thank God for the sense to remember the '3′ steps, STR (OKE). Read and Learn!
Now doctors say a bystander can recognize a stroke by asking three simple questions:
S *Ask the individual to SMILE.
T *Ask the person to TALK and SPEAK A SIMPLE SENTENCE (Coherently) (Eg. It is sunny out today.)
R *Ask him or her to RAISE BOTH ARMS UP
NEW SIGN OF STROKE: STICK OUT YOUR TONGUE
if the tongue is crooked, as in it goes to one side or the other, that is also an indication of a stroke.
If the person has trouble with ANY ONE of these tasks, call the emergency number immediately and describe the symptoms to the dispatcher.
A cardiologist says if everyone who gets this information and passes it on to 10 people will save at least one life. What if the life you saved was your own? PLEASE share this NOW.
Sometimes symptoms of a stroke are difficult to identify. Unfortunately, the lack of awareness spells disaster. The stroke victim may suffer severe brain damage when people nearby fail to recognize the symptoms of a stroke. Remember: 3 hours!!
And that's it for this month! Remember to click on

Leave a Comment

above, or fill in Speak Your Mind at the end of the post, down below. Love to hear from you.