Depressed Science September 2008
LIVE IT UP eNews!
Spring into….                                                                                    September 2008
1. The Science of Depression

2. Recipe: Rump Steak Pesto
Dear Reader
I'm doing the usual, bouncing Newsletter topics round and round and finding it hard to decide on a topic. So, I thought to myself, I could keep doing this for a month, or, just get the fingers to work the keyboard, and hey presto, within moments I've got a topic just by getting started.
Life is like that you know, the more you think about something, the more there is to think… Which means you don't get to do what you are thinking about!
Ironically, we then say, "I just can't get things done, but it's not my fault." Well it is your responsibility to take action, to put the first words to paper, to take the first step, to extend the first hand of forgiveness or compassion.
When you keep thinking and thinking, and never take action, it's called "paralysis by analysis". Stop over-thinking your life, and get that blood flowing. In the timeless words of Henry Ford, "Whether you think you can, or whether you think you can't, either way you're right".
Golly, talk about sidetrack myself! Some of you may know that I also do business coaching and training, and have done a lot of work with Real Estate Agents.  There's a terrific article on smoking addiction, and on hormones in Issue 146 of Naturally Happy ezine. Check it out
And remember, Live Life 2 The Max! Narelle
The Science of Depression
Firstly, some brain facts!
1. The average adult brain weighs 1300 to 1400 grams and is comprised of the following:
Intracranial contents by volume (1,700 ml, 100%): brain = 1,400 ml (80%); blood = 150 ml (10%); cerebrospinal fluid = 150 ml (10%) (from Rengachary, S.S. and Ellenbogen, R.G., editors, Principles of Neurosurgery, Edinburgh: Elsevier Mosby, 2005)
2. Your left side of your brain controls the right side of the body, and vice versa. The difference in the number of neurons in the right and left hemispheres = 186 million MORE neurons on left side than right side (Pakkenberg et al., 1997; 2003).
3. Your left side of the brain is in charge of rational, analytical thinking – a bit like a computer, and the right side of your brain is the emotional component, the creative and softer stuff.
4. Your brain has 2 lobes, and within those lobes are various components that direct speech, hearing, vision, taste, smell and feeling.  The part that connects in the middle of the two lobes, is where information crosses over, and is called the corpus callosum.  a bit like a railway crossing that bisects the road on either side.
5. Your brain has a blood supply and the brain has millions of nerve cells, called neurons (approximately 100 billion!), that communicate with each other along a nervous system which is called a neural network.
6. Vitamins and Minerals (found in your food) activate electrical charges or transmitters and in turn, create substances that either improve your brain's mental/emotional function and stability, or these same substances can hinder your brain. Right down to the last molecule, we need everything in balance including those transmitters.
7. Neurons (5) carry the electrical transmitters called neurotransmitters. There are quite a few different types of neurotransmitters which release molecules such as serotonin "pronounced Sara tone in", dopamine "dope a mean", norepinephrine "naw ep (Like in Step) e nef frean"  and Gamma Aminobutyric Acid (GABA).
8. Your brain sends these neurotransmitters along the pathways of the neural network.
9. Just like the electricity that comes via the wires in the wall, these neurotransmitters carry positive and negative impulses or  charges via molecules. (These impulses are not the same as a sudden impulsive shopping spree!)  Molecules could be imagined as a tiny balloon carrying chemicals to drop off in certain spots. Look out, here comes the love bomb!
10. Sometimes when these neurotransmitters release their molecules, it doesn't always get absorbed (called uptake) by the areas that need it, so then the brain tries to take it back again. This is called re-uptake.
11. And science has come to the rescue and found that some substances will prevent or inhibit the re-uptake, which means that those neurotransmitters can eventually be used again. Neat, huh!  No waste in the body or the brain!
12. When we have too much or too little of those important neurotransmitters, then our brain responds with anxiety, depression, stress or other more severe mental health disorders.
Another brain facts:
Length of myelinated nerve fibers in brain = 150,000-180,000 km (Pakkenberg et al., 1997; 2003) Who would think it?
That's probably enough science for one newsletter, so I will continue this next month.
Master's Wisdom!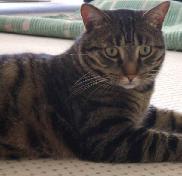 "I've been smoodging when I'm hungry.. Some people connect food and comfort too"
2. Recipe: Rump Steak Pesto
2 tsp cumin seeds
1 Tbsp green peppercorns in brine, drained and rinsed
1 cup fresh parsley, mint, chives, and coriander, mixed
2 Tbsp olive oil
Zest of 1 lemon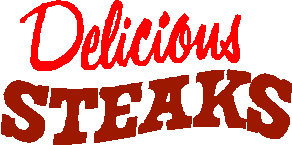 Instructions
Crush cumin seeds in mortar and pestle, add peppercorns and pound a little to break them up slightly. Remove any tough stalks from the herbs. Put the herbs in a food processor with the cumin seeds, peppercorns, oil and process until the herbs are finely chopped.
Place the sauce in a small serving dish, covered with cling film, and chill until ready to serve. Prepare the sauce a day in advance to allow the flavours to mingle.
Barbeque or grill 500gr rump steaks until cooked to your liking, and then serve topped with the sauce, along with a fresh salad.  Gets those taste buds zinging!
Recipe courtesy of Healthy Inspirations, thank you!