Family Time
LIVE IT UP eNews!                                                                      November, 2005
1. Juggling Work and Family

2. Recipe: Exotic Salsa
Hi there!
Gosh, life has been full.  I've been mentoring and supervising 2 fabulous psych students, providing complimentary business coaching to SMILE members (Single Mothers' Income Lifestyle Experience), MC'd an ABN event, wrote 2 training programs, got the books up to date with the bookkeeper and presented a paper at the Quality Conference last week. Now I think I'll fall on the couch to happily recover!!
Cheers, Narelle
1. Family Time
© Narelle Stratford
Our families and friends are what make us who we are.  I heard a quote the other day that said: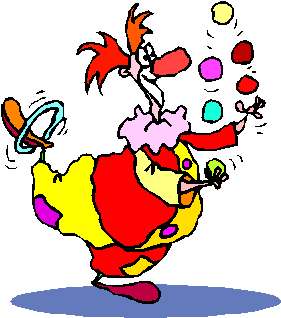 "Life is like juggling 5 balls – 1 for work, 1 for finances, 1 for health, 1 for myself and 1 for family and relationships. The first 4 balls are made of rubber, so if I drop one of them, they'll bounce and I can start again. The last one is made of glass, so if I drop that one, it will shatter."
Which ball should you be focussed on?
For most of us, the rush of life is on, but think about what you missed out on last year. Any birthdays you didn't make?  Family gatherings, weddings (even funerals)? What about the phone calls you didn't get around to making to family and friends?
Whether you're a parent, a grandparent, a son, a daughter, or a friend, I'd like you to find some precious, extra moments to spend with significant people and your family, this year.
They'll appreciate it – and so will you.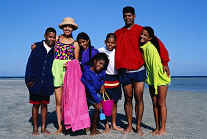 Do you waste valuable time doing any of these things: worrying, watching TV, working hours that aren't effective or necessary? Do you buy lots of toys and gifts to compensate for your lack of family time?
Start with small goals. Turn the TV off.  Talk to the kids. Have tea as a family. Make the calls now that you didn't make last year. Visit a friend you haven't seen for a while. Get in the habit of communicating regularly over the Christmas period and continue it, every week, every month. Your friends and family will love you for it.
Healthy Living

Did you know that cheap 30+ sunscreen is as good as expensive brands? With cheap sunscreen, apply 15 to 20 minutes before needing it, to dry, clean skin (who has dry skin in this heat?) Because it doesn't cost as much, we're likely to use it more regularly.
Reapply after vigorous exercise (just raising a sweat), or two hourly.
It's sometimes easier to wear a hat, long sleeves, gloves and carry an umbrella (UV, of course).  *Source – Choice
Make sure you drink lots of water because dehydration is a prime cause of headaches, stress and tiredness. Cut down on coffee, and remember that green tea contains those helpful antioxidants to fight off the free radicals.
2. Recipe: Exotic Salsa
½ c diced mango½ c diced  pawpaw¾ c pineapple cubes½ c chopped macadamias3 tbs finely chopped red onion1 small seeded, minced hot chilli1 clove garlic minced2 tspns lime zest3 tbspns fresh lime juice1 tb finely chopped corianderGround Black pepper.

Combine the ingredients, cover and refrigerate for a maximum of 2 hours before serving with grilled chicken, fish and salad dishes for something very different and very refreshing for summer.