Love and Peace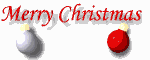 LIVE IT UP eNews!   
December 2008  
1. Beauty of Love

2. Recipe: Tropical Ice Cream Plum Pudding
Dear Reader  
Apologies for no November newsletter. Life sometimes gets in the road of the plans you make, so it's best to let it go with good grace and move on. You're about to see why! In October I had 10 days off, and flew to New Zealand.  Gosh what a gorgeous country. I visited the South Island: Lyttelton and then Queenstown where I was speaking at a conference.  
Here's the highlights:  
Punting on the Avon River (Christchurch) and seeing baby ducklings on the water for their first time
Visiting the Arctic Centre and getting to pat a penguin!! Their fur is gorgeous and soft and their flippers really hard and scaly like a fish!
Taking a wildlife cruise and seeing the beautiful Hector dolphins up close, and penguins out at sea
Visiting a horse stud and playing country-style games and enjoying a delicious BBQ (indoors folks, it was after all, close to freezing!)
roping the steel cow
archery
slingshot
warble whistle competition
Going on a wine trail tour (ooh yum!)
Taking the Gondola up to the peak above Queenstown
Speaking at the conference and last but definitely not least - wait for it…. drum roll….
HANG GLIDING!!!! Yeaaa! I loved it, and I wasn't scared, well except for the one time when we went side on, that gave my heart a bit of a lurch, and no one told me you can get motion sickness on a hang glider! Well, they told me when I was on the little shuttle bus heading up to Coronet Peak, but by then I was committed.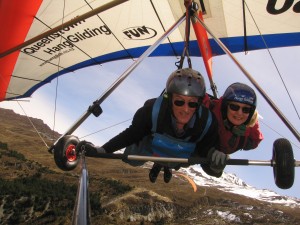 Brisbane Psychologist Hang-gliding in NZ 2008 – Click the link or the photo for a video 
I got back late October, and hit the ground running with my wonderful clients, and never gave the newsletter another thought, except to say, "oh well, it's too late now."  
This Christmas, I am going to avoid the wrath of my cat Master and stay home! I will be closed from the 23rd December until 5th January, but still available on the mobile.  
I wish you all a Merry Christmas, a Happy New Year, or a wonderful break over the festive season, so that you are refreshed, rejuvenated, regenerated and reinvigorated!  
Until next month, Live Life 2 The Max!  Narelle  
1. The Beauty of Love
© Narelle Stratford 2008  
Okay, it's Christmas time, and of course, that's when we remember all those loved ones who aren't with us, for so many reasons:  
Loss and Grief
perhaps someone you love has passed over and you remember them fondly.
someone is in another town, or city or state or country
your relationship has finished and you are no longer together, yet you remember that person.
Our memories are often tinged with sadness, or grief or loss, or even anger or resentment, depending on our particular circumstances. But it doesn't have to be that way does it?  
I recently heard a beautiful story of a woman who's husband passed away while holding her hand. As he died she felt an incredible surge of love and joy enter her heart, and felt that he had come into her heart to let her know that he was okay. 
The rest of his family were grief-stricken, yet she felt this amazing joy inside her, and left the room to be able to experience fully, what had happened. She somehow just knew that he was safe, at peace and home and that she did not have to grieve his loss.  
You know don't you, that your loved ones don't want you crying buckets of tears over them, because that doesn't help them or you? Isn't it better to remember those who've been in our life with love and laughter so that they are free to move on, and so are we?  
Love

, Peace & Joy…
The beauty of love can help all of us get through Christmas. We can choose to feel free to do what we need and want to do.  We can choose to say, "you're invited and if you come that's great and if you don't, that's great too".  
We can choose to give the gifts of time and love instead of expensive cards and wrapping. Don't know what to say on a note if you write your own? Write these three little words that have such a big impact: I LOVE YOU! and say what you love or admire or respect about that person. If love isn't the right word, then use like, or appreciate, or respect, or value instead. You know the person better than a card manufacturer, tell them what good you see in them and let him or her know they are appreciated.  
Then, imagine that you love yourself fully, that you are bathed in radiant love and pure white light, and you are a beacon of love and light!  Radiate that love and light out to every person as you think of him or her, alive or passed over, or through your life, and touch their souls with love. Bring peace and harmony to the world through you, and radiate it out to all around you.  
I send you my love now, may you feel serene, safe, peaceful and blessed, now and forever more.  
Narelle  
Master's Wisdom!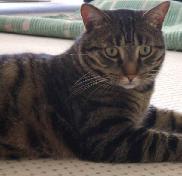 "She better stay home this Christmas OR ELSE!"  
Call Home Visits for Sick Computers, if your computer is … well, unwell. 1300 664 066  
I've used these guys for years and they give awesome service.   
2. Recipe: Tropical Ice Cream Plum Pudding
1 pkt Fruit Medley soaked overnight in 1 cup mandarin juice  
1 cup chopped raw macadamias  
1/2 cup chopped dried cranberries  
1 cup roughly chopped (chunky) pieces of Violet Crumble or honeycomb  

Mix these ingredients together, and then add to 2 litres softened butterscotch ice cream and 2l softened vanilla ice cream.  
Refreeze and serve on Christmas Day decorated with pieces of apricot, mango and a drizzle of passionfruit.  Delicious!