Motivation Tips
Winter's here!
1.  Easily Motivate Yourself & Others
2. Recipe: Slow Cooked Chicken Korma
Dear Reader
No you haven't dropped off the Newsletter list. I started this newsletter in April believe it or not, to be ready for May, and didn't get back to it. Could be too much Tango, could be that my daughter had a gorgeous baby boy Rowan Nicholas weighing in at 9 lb on May 8, so now I am Nanny for the 3rd time, could be that I went to Sydney to attend a day workshop, could be that her firstborn son Thomas turned 2 so I have been out to Esk and birthday partying, could be that work has been so busy I've barely had time to think and I am booked out a couple of weeks in advance! Whatever the excuse, I mean reason, please accept my apologies that there was no May newsletter, and you could be very happy that there is an early June one.
I've been focussing on Argentine Tango and it is amazing how complex this dance is, in terms of muscles used and how the body works. I'm focussing on being a sponge to absorb all the technical aspects and allowing the techniques to infuse my dancing. Every now and then I think I am getting better at it until something new is introduced and then I think you must be psychic to do it!
It's very important to feel confident even in the midst of my lack of confidence! By growling at myself I get discouraged because my inner child, who is the doer by the way, doesn't feel like doing any more….
Which leads me to this month's topic of motivation and how best to motivate oneself and others.
Warmest wishes, Narelle
PS, if you have a great easy recipe that you would like to share, please email me with it. I want more please. Please send me a recipe.
One reader let me know that the Lemon Cake was delish!
1. 7 Easy Steps to Motivate Yourself and Others
© by Narelle Stratford 2010
As you read this article, read the following statements aloud (please read aloud with feeling) and notice that you probably feel pressurised, de-energised or demotivated or overwhelmed.
I should go on a diet, I feel so fat.

I must go on a diet because I can't stop eating.

I have to go on a diet, my clothes are too small for me.

I've got to stop eating so much food.

I need to go on a diet and I hate myself for letting myself go like this

.
Perhaps you are already slim, and have some other thing you should, must, have to do, or stop doing or hate yourself for? So substitute what ever it is for you. Maybe it is regular exercise, or study, or housework or not enough time with family members or overwork or perfectionism that drives you and others crazy?
Whatever it is, make the substitute to personalise the statements above for yourself and take notice as to whether you feel motivated or energised or encouraged by those statements, or just the opposite.
When I ask my clients to say these statements aloud, substituting whatever it is that they are annoyed with themself about, invariably they will say that they feel pressure across their chest, or in their stomach, or they can feel their neck and shoulders tightening up and they understand instantly that these statements are completely unhelpful and will not motivate them.
What's more, when we start hating ourself, we are beating up our inner child who then feels even less like doing what needs to be done.
In psychological terms, the phrase "musturbation" has been coined by one of the psychological gurus to describe the statements above that use the words: need, must, should, have to, got to.
Instead, follow these 7 easy steps to motivate yourself and others:
1. Imagine feeling pleased with yourself, excited by your self-discipline and enjoyment and satisfaction with what you have completed, when you say these statements aloud instead:
I feel satisfied with a small, healthy, delicious plate of food.
2. Imagine how you look as you be the change you want to see in yourself.
My body feels toned and I look wholesome and sweaty after a great workout.
3. Pour the praise on!
I am so proud of myself because I am looking after myself with 2 to 3 l of water every day, a good night's sleep, moving my body energetically and small, healthy, yummy meals.
4. Share your good feelings with your inner child:
I am so happy with myself because every day in every way, I am doing something, that helps me to get better and better.
I love and approve of myself, I am a wonderful person.
5. Look in the mirror as you validate yourself:
I am doing the best I can with the knowledge and internal resources I have at the time.
6. Share the love! Tell someone else what you are doing and how happy you feel about yourself.
I'm so excited because I have been eating small, healthy meals and moving my body and drinking lots of water. I am so pleased with myself!
7. Keep going!  Tell yourself this, when you have a momentary lack of faith:
I know you don't feel like it, and feelings aren't facts. I know you will feel better because you have gone out and done something positive and proactive. So, up and at 'em, Atom Ant!! You can do it! I can do it!
So, whether it is exercise, getting that weight down, checking those thoughts that are less than positive, or completing an assignment, the more you focus on the positive look, sound and feel of this motivated you, the more likely you are to do whatever it is you want and decide to do.
No-one I know ever feels motivated by being roused on and getting into trouble. So why should you?
Need more help than this with motivation? Then you might be depressed, suffer from anxiety or overwhelmed with stress.
So Call now on 07 3040 2322
Master's Wisdom!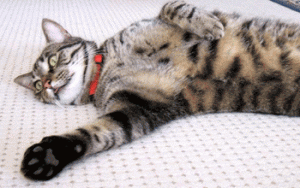 "I know that when she cuts my food portions down, it's for my health and well-being. Does it really mean I have to like it??????"
[Note from the Mistress Narelle: Master is just over 10 kgs and twice as long as the average cat, and also much taller. And he is still overweight!".
2. Recipe: Slow Cooked Chicken Korma
I love my crock pot, or  you could put this in the oven and cook at a low temperature for a couple of hours too.
Brown your chicken pieces or if you are lazy like me, just pop them into the crock pot.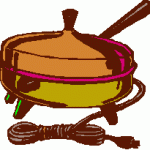 Layer with thick pumpkin wedges, sweet potato slices, diced garlic, and then cover with Korma simmering sauce.
Slow cook all day, then add  broccoli and snow peas to the pot for a little while.  Just keep an eye on the colour of the vegies and you will know when they are cooked as they go bright green. Serve with brown rice or basmati, and Poppadums go well with this too. I do mine in the microwave for less fat and more speed.
Tastes wonderful and so easy when you get home after a busy day to just do a couple of vegies and the rice.