Depression News
Live it Up eNewsletter!                                                                               July 2010
1. News on Depression Medication

2. Recipe: Victoria Sandwich

Cake
Dear Reader
Okay, another busy month, and if we are lucky, life never stops!
This month I went to Sydney to the Australian Society for Clinical Hypnotherapists conference, and it was brilliant. I then attended a post-conference workshop by Dr Michael Yapko, and have enrolled to attend his 100 hour Clinical Hypnotherapy course commencing next year. Michael was visiting from the US, he is a psychologist and specialises in Depression and Anxiety treatments by hypnosis, and he has worked with the greats in the psychological field. A very inspiring man as well.
He also revealed that three major drug companies are getting out of the anti-depression medication area. Interesting, isn't it? Why would they do that? Because finally the full studies have been revealed after a Freedom of Information case and those studies prove that anti-depressant medication is as good as a placebo such as a sugar pill.
Now for those of you on anti-depressants, STAY ON THEM PLEASE. Please discuss this with your GP and do not go off your medication. Why not? Because they may be doing something for you and sudden cessation may cause problems. Also if you believe they are working, then they are working for you.
Click here to read an article I downloaded from Michael's site. Just click on the link or Right Click and Save Target As to save it to your computer.
Not only that, there are some other articles that are very good too, so here are the links for those: The Depressing News About Antidepressants
Severity and Effects of Anti-depressants this is a summary of a journal article and is quite technical
Of course, no matter what we read, we are always going to be given someone else's view and someone else's beliefs about the rights and wrongs, so if you go hunting you will find that as well!
I had a wonderful time at an Art in Glass workshop by Lexine, whose stunning work has recently been taken to China as a gift from the Australian government. Art in Glass by Lexine, and I learnt how to make jewellery (see the pic of stunning pendants I made) using gorgeous coloured glass!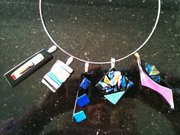 It was such fun and I highly recommend Lexine's teaching and course.  Call Lexine on 0409 767 815 to book in and do go and see her jewellery, bowls, plates, and there is such a fabulous array to choose from, who knows what else you might want to buy.
Because I have written a lengthy piece in this section I have forgone another article.  Until next time,
Warmest wishes, Narelle
PS, if you have a great easy recipe that you would like to share, please email me with it.  I want more please.  Please send me a recipe.
Master's Wisdom!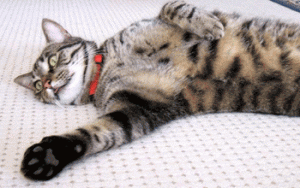 "I don't like going to the Vet even if it is good for me!"
When did you have your last check-up with me or your Doctor?
Is it time for a tune-up?
2. Recipe: Victoria Sandwich Cake
4 oz Self-Raising Flour (sifted) (114 g)
4 oz Caster Sugar
4 oz Butter
2 large Eggs
1 tsp Vanilla
2 tbsp Strawberry Jam (or flavour of your choice)
Some warm water if necessary
Preheat oven to 160ºC degrees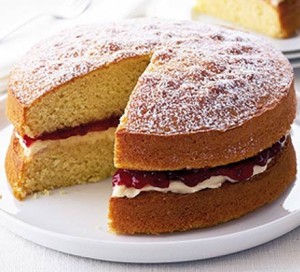 Method
Beat butter & sugar together until light & creamy.
Add eggs one at a time beating well until incorporated.
Add vanilla.
With a wooden spoon or spatula, slowly fold in flour by spoonfuls. Do not over-mix. Batter should be thick and with a dropping consistency.
If not dropping, gently add 1-2 tbsp of warm water.
Pour batter in a greased-lined tin and bake 160ºC for approx 25 mins. Cake is done when top is golden and sides have pulled away from tin.
Take out from oven and let it rest for a few minutes in tin before turning out on a cooling rack.
Heat 2tblsp of strawberry jam in microwave for 1min or until runny.
If cake is cooked in one tin, cut it in half and spread warm jam on one side & sandwich with the other half.
For extra decorative effect, when cake is cool, use a small strainer and sift 1 tbsp of icing sugar over the top of cake. With a butter knife lightly mark lines in a criss-cross manner.
Now you have a beautiful cake that you can serve to your guests.
Note:
When baking cake, always line the bottom of the tin with greaseproof paper.
Variations (choose any of the following)
This is a very versatile cake and can also be used for cupcakes. Put cases in a Muffin pan & fill cases ¾s full with batter.
Add 3 drops each of Almond essence & Rose essence.
Take a little less than ½ of the batter & put in another bowl. Sift a spoonful (not heaped) of cocoa onto batter. You can do this with a small strainer. Stir in, if it is too thick add a little water, maybe a couple of teaspoons only. Pour both in tin and with a knife of chopstick, do a light swirl. Now you've got yourself a marble cake.
Add 1 tblsp of chocolate rice or nips (more or less up to you).
Instead of vanilla, add some grated rind of orange or lemon and a little of its juice.
You can even sprinkle in some nuts or fruit.