News
Narelle Stratford, Brisbane Psychologist, Media Index
Wednesday 22/07/2009
Narelle was interviewed by Madonna King on ABC Radio 612 on the answers to the questions asked in Get Clued In On Women.  Listen hear or at ABC Radio (612)
Narelle was interviewed by Nick Rheinberger on ABC Radio Illawarra (97.3) on Thursday 23/07/2009 at 5.45pm on that fascinating topic, Get Clued In On Women
Courier Mail  28/06/2009  Narelle was quoted in the Career section on the results of the recent Workforce Satisfaction Survey.
Radio 4BC: 2009 Narelle was interviewed by Greg Carey on weight loss following on from an earlier discussion on weight loss the day after The Biggest Loser was crowned.
Narelle Stratford, Psychologist interviewed on Confidence by Debra Bella from MX, Week of Monday 20th October, 2008.
sorry, have not been able to obtain a copy of this article!
About the Bronco's performance 18.9.2008
Narelle Stratford, Psychologist interviewed by The Courier Mail and 4BC 1116, regarding The Broncos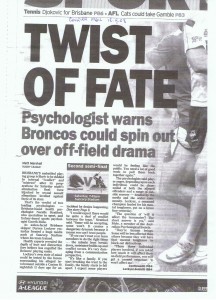 On 17th September, 2008 Narelle was interviewed regarding the fallout of 3 Broncos players over an alleged incident on the weekend.  Please note that I made it quite clear to the journalist that I am not a Sport Psychologist, did not refer to myself as an expert, and advised him that my field was Health Psychology, and that I had done some work with sports people.
On Thursday 18th September, 2008, I was subsequently contacted by the Producer of 4BC's morning radio show, and advised her of my credentials as well.
Both the Courier Mail and 4BC referred to me as a sport psychologist and/or expert in sport psychology.
Aside from this inaccuracy of my qualifications, my comments still stand.